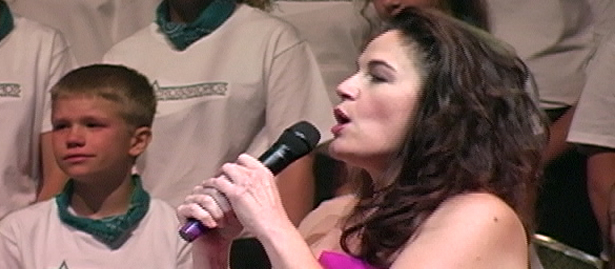 Accolades West Tennessee Youth Chorus
President George Bush: "You are real good!"
Henry Leck-Founder of the Indianapolis Children's Choir: "The dedication and commitment to the higher education of the singing art of Martha Wright and the WTYC is evident in their performance."
Reverend Robert Schuller-Author and founder of the Crystal Cathedral: "This is a fine choir. We would love to have you perform at the Crystal Cathedral."
Willard Scott-The Today Show-NBC: "This talented group of children stole the show last night. Their director Martha Wright is lovely woman in her own right."
Bob Johnson-Producer-The Johnson Group: "The WTYC is a very talented group of children, but behind this wonderful choir is a very talented director. Behind the scenes, Martha has been faxing back and forth to the Band (US Marine) writing arrangements long distance. You wowed them again! What great talent, fine kids, and a fantastic leader! We were honored that you and the WTYC were a huge part of this glorious event!"
Nannette and Thomas Kinkade-Painter of Light: "Your children were wonderful! "
Joe Fab-Producer: "Unbelievable, Martha! You're great! You and your children brought so much to the event again!"
Dr. Gerold Teachey-Voice Care Associates: "Professionally, Martha Wright understands and respects vocal technique and voice use by young singers."
Marty Stuart-Country Star: "Martha Wright-she's ok, I like working with her."
Carl Tanner-Metropolitan Opera tenor: "You sound like angels." (An invitation has been extended for the WTYC to record with Mr. Tanner)
Sue Manaskie-Parent: "I am so thankful we had the opportunity to get to know you and take part in your miracle choir."
Ashley Cole-Student: "Every goal Mrs. Wright sets, she achieves."
Kalleen Esperian-Operatic soprano: "Your blend is incredible."
Paul Chandler-Director-Germantown Performing Arts Centre: "This well-disciplined group of young musicians will lighten the heart with their youthful blend!"
Bryan Kidd-Chief composer/arranger of the U.S. Navy Band: "The WTYC was professional in talent, decorum, and discipline at all times. They were well-rehearsed."